Part Eight Addendum: the Purple Shriveled Pickle

I felt that it would be important to add this little tidbit, if for no better reason than getting to use the word "tidbit", and also due to the fact that it's not entirely true that everything in the past few weeks has been of the mixed blessing variety. There is a really good thing to share as well:
My brother and his girlfriend, Corinne, recently announced their engagement! This is awesome because they, in my opinion, are really good together and because I already have come to view her as a sister.....a purple-haired sister that listens to shitty pseudo punk music....but a sister nonetheless. And I'm NOT about to publicly chastise her right now due to the fact that she's going to go see Hank Williams 3 tonight with the other retards.
Please feel free to use the above links to give congrats to the happy couple if you feel the need.....add them to your friend's list, send them angry letters about things that they have nothing to do with or send them money to help get started drinking early tonight.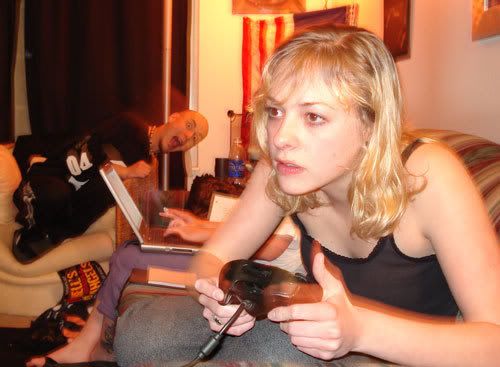 In other news, the internet connection seems to be up again finally, after being down for the past several days; I have the entire day off and plan to finish up the last two posts of this directionless ten part series that I originally intended to have all posted within two or three days after starting....then I will start a series of One part series posts, because that makes more sense. My feet itch, just thought you all should know.